Non-Stick BBQ Grill Mats
PRODUCT DESCRIPTION
Non-stick BBQ Grill Mats is made of PTFE and fiberglass.Taking the advantage of the non stick and heat resistance of ptfe with the strength and dimensional stability of fiberglass, our Non-stick BBQ Grill Mats help you to avoid to put the food on dirty, burnt and rusty BBQ grill or plate directly, helps to keep BBQ grill clean, saves hard work to wash. Most important, there is no need to put oil or grease on the Non-stick BBQ Grill Mats any more, so allows customers to bbq in a much healthier lifestyle. easy to clean in soapy water with a sponge, or kitchen paper.
Using Non-stick BBQ Grill Mats ? This Non-stick BBQ Grill Mats is shaped to fit the electric , charcoal and gas public grills . No more cleaning up after other people, this Non-stick BBQ Grill Mats gives you a clean surface to cook on every time. Totally re-useable for years both sides.
Save yourself the effort of having to spend hours cleaning your BBQ after each use. These Non-stick BBQ Grill Mats sit on top of your BBQ hotplate and you place your meats on top of it. Your food will cook as well as it does not directly on the hot plate, and you spare yourself the after math clean-up! Just wash it in hot soapy water when you're cooking done! The Non-stick BBQ Grill Mats will last for years with the correct care, and your BBQ will stay clean and shiny for even longer. You can even use them in the oven and in frying pans! With summer coming up, there's no better time to get your hands on some of these!
Function of Non-stick BBQ Grill Mats :
(1). Non-stick BBQ Grill Mats Non-stick, No mess in the oven /toaster ,Easy clean
(2). Non-stick BBQ Grill Mats cook without oil or fats, more healthy
(3). High temperature resistance, no harm to health
(4). Non-stick BBQ Grill Mats reusable up to 50 times, eco-friendly
The non-stick BBQ Grill Mats can be cut any shape to fit for your oven , toaster ,stove , gas cooker, pans ,cake tin , can be used when cooking , roasting , grilling , baking , frying The heathier cooking invention that simply works , cook your food in its own juices, ensuring the food is low in calories and retains its vitamins .
Applications of Non-stick BBQ Grill Mats :
1. Non-stick BBQ Grill Mats Cooking crisp food, meat, fish in oven, microwave oven, pan, BBQ grill
2.Drying machine for non-woven textile, textile printing, silk-printing and dyeing machine.
3.Shrinking machine for garment fabric, high-frequency and UV dryer.
4.Hot-air dryer, various of food baking machines ,quick-frozen machines.
5.Oiling machine for paper glazing and waxing, plant engineering.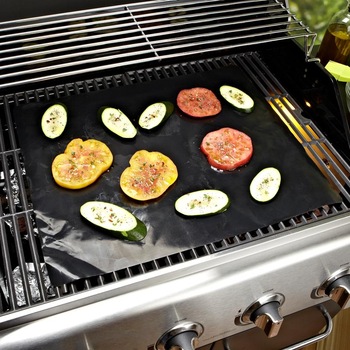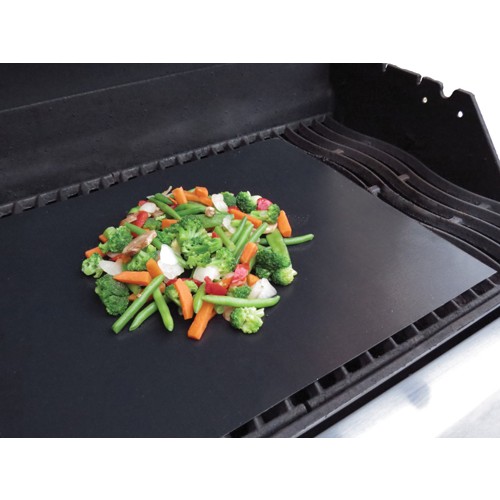 Non-stick BBQ Grill Mat PRODUCTION PROCESS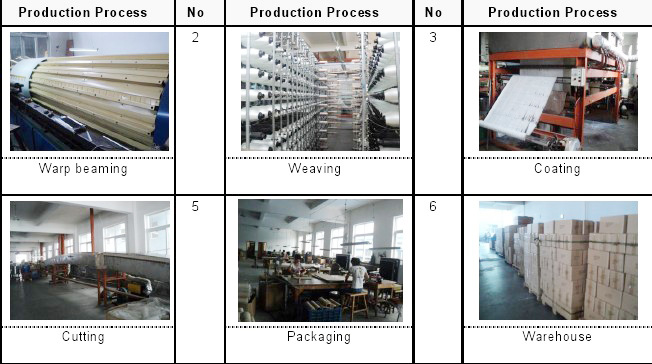 CERTIFICATE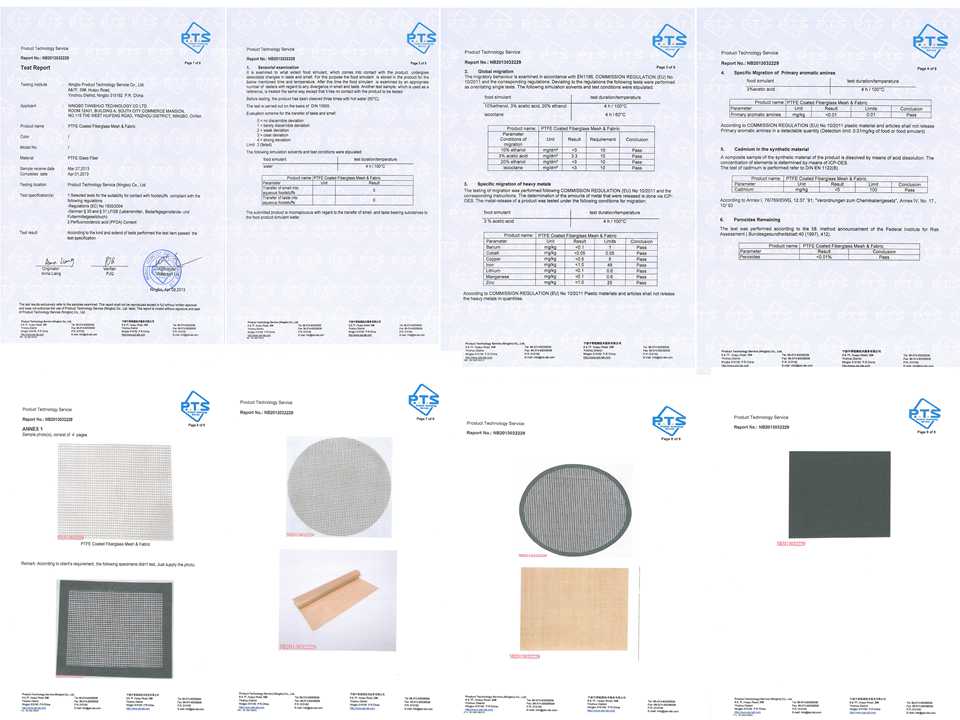 About us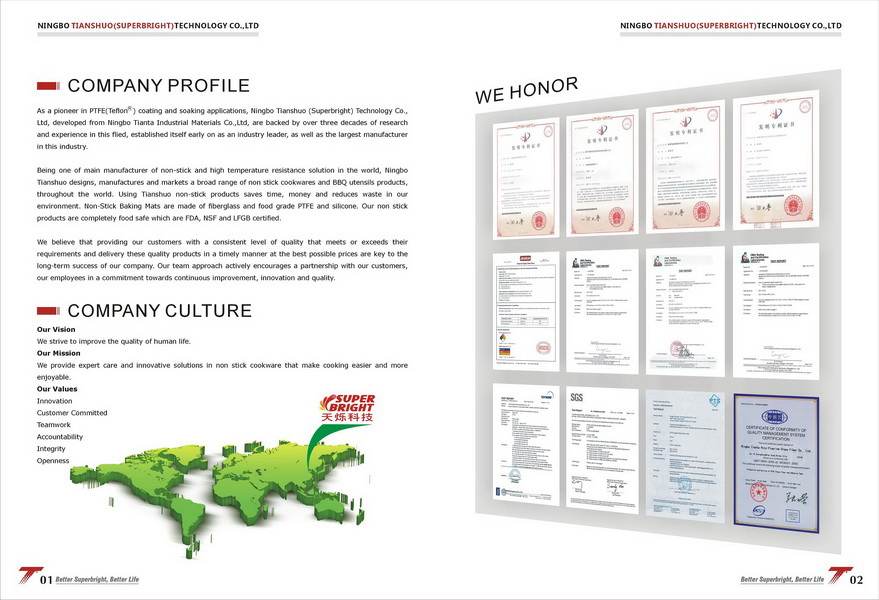 Main Products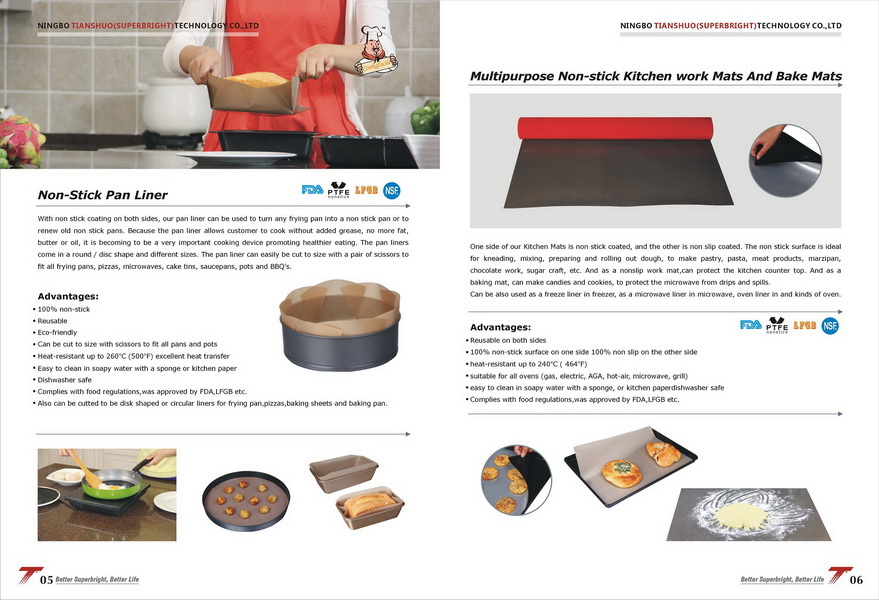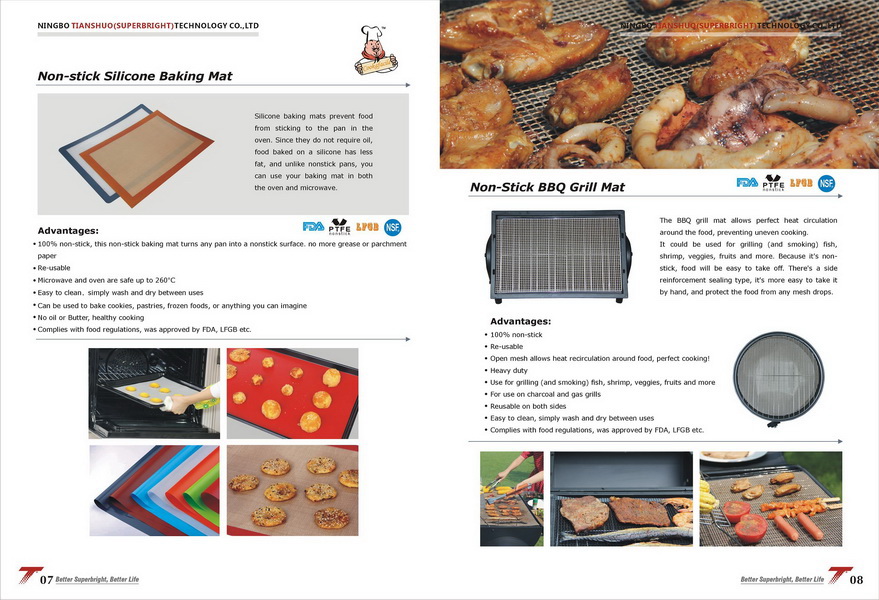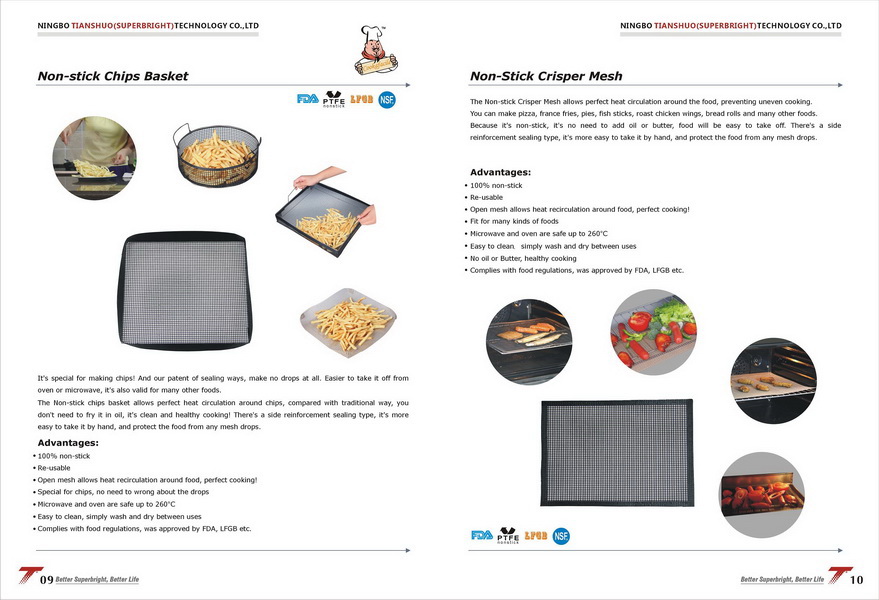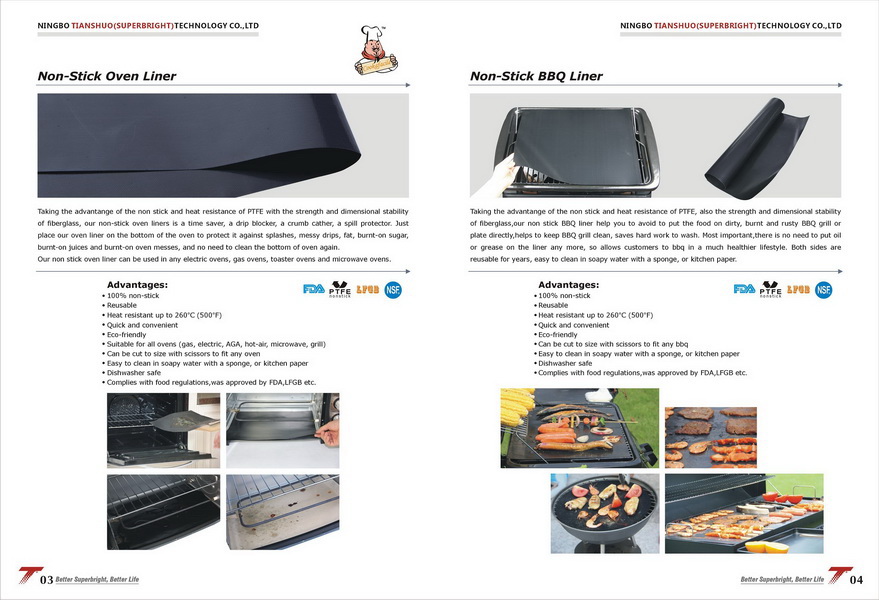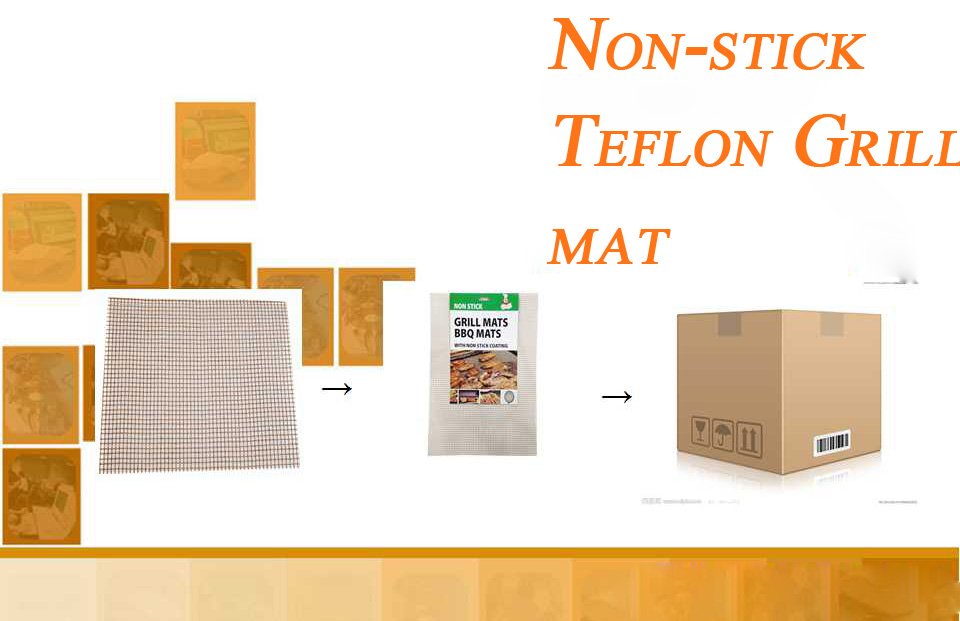 one piece Non-stick BBQ GRILL MAT in a gift box or rolls up in a polybag or in a and 30 to 70 pieces in a carton
Export Market
Trade & Market
Main product:

silicone baking mat, BBq liner , chips basket, Non-stick gas oven liner

Main Markets:

20.00% North America
20.00% South America
20.00% Eastern Europe
20.00% Western Europe
20.00% South Asia

Total Annual Sales Volume:

US$5 Million - US$10 Million

Export Percentage:

71% - 80%
Business Terms
Accepted Delivery Terms:
FOB, CFR, CIF, Express Delivery
Accepted Payment Currency:
USD, EUR, JPY, CAD, AUD, HKD, GBP, CNY, CHF
Accepted Payment Type:
T/T, L/C, D/P D/A, Credit Card, PayPal, Western Union, Cash, Escrow
Minimum Order Value:
>US$ 500
Nearest Port:
Ningbo,Shanghai
Language Spoken:
English, Chinese, Spanish, French, Italian
Overseas office:

| | |
| --- | --- |
| Country/Region | Province/State/County |
| FR | Paris |

No. of Employees in Trade Department:
11-20 People
Average Lead Time:
15 Day(s)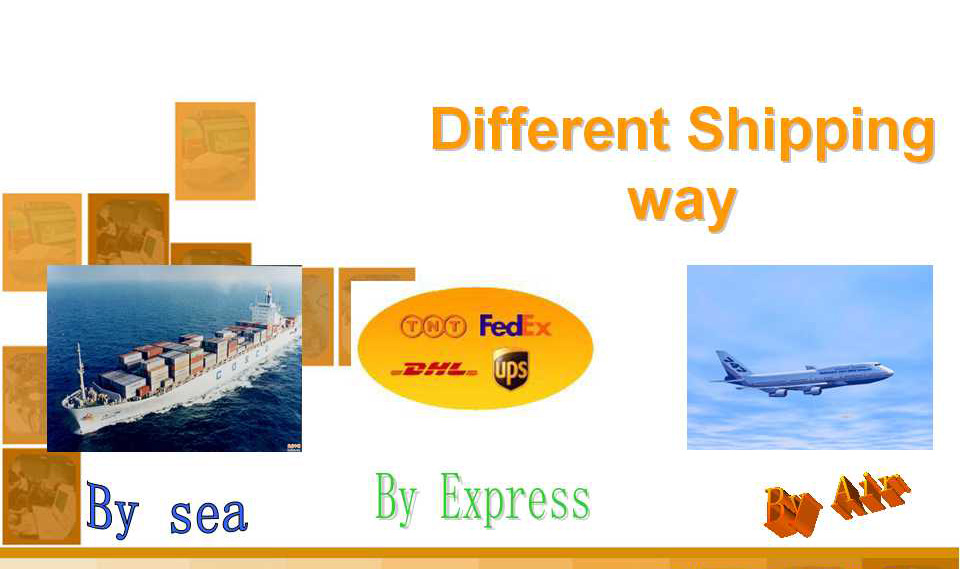 Onsite Check
The supplier's company premises has been checked by Alibaba.com staff to verify onsite operations exist there. A third-party verification company has confirmed the legal existence of the supplier. Learn more about the third party verification agency CBI. Onsite Checked Liability Disclaimer.
Verified Information By Onsite Checked
Verification Type:
third-party verification service provider
Business license:
Registration No.:330212000162428Date of Issue:2010-07-23Date of Expiry:2020-07-22Registered Capital:RMB 3,000,000

View more

Company Name:Ningbo Tianshuo Technology Co., Ltd.Country/Territory:China (Mainland)Registered Address:Science & Technology Park, Jiangshan Town, Yinzhou District, Ningbo, Zhejiang, China (Mainland)Year Established:2010Legal Representative/CEO:Yunhua ZhongLegal Form:Limited Liability CompanyIssuing Authority:Ningbo Administration of Industry and Commerce Yinzhou Branch
Business Type:
Manufacturer, Trading Company
Operational Address:
No. 10, Gaoya Road, Science & Technology Park, Jiangshan Town, Yinzhou District, Ningbo, Zhejiang, China (Mainland)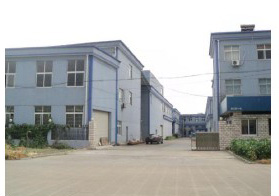 Группа Продуктов : Антипригарное барбекю гриль лайнера & сетки коврики